Photography of the Plaza Blanca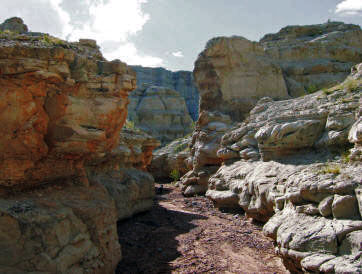 Being such an iconographic part of the landscape the Plaza Blanca attracts photographers from all over the country aiming to experience that special feeling that O'Keeffe captured so memorably.
There is a great guide to other photographic opportunities in New Mexico in this guide, which surprisingly doesn't mention the Plaza directly. However the tips it has will be of great use to anybody planning a photographic trip to NM.
For the Plaza Blanca itself the area is all about contrast and textures so naturally early or late in the day provide the best changes to capture that in an image. It's hard to say when the exact right time will be of course as too early in the morning and the sun will not be brining light into the valley, while too late and it has disappeared. In Winter, the best time to visit, you'll want to be there by 8AM if you go in the morning, while for the afternoon session by 6PM shadows are becoming long and you'll find the contrasts too high.
Due to the textures the location lends itself to B&W photography.
Watch out for sunstar effects in the morning behind the tall column sometimes called The Lighthouse.
Be reminded that the Plaza Blanca is private property of the Dar Al Islam and it is necessary to contact them for permission before undertaking any commercial photography whether still or motion. Call 685 4515 ex 21
Plaza Blanca Guide - How To Get Here - Unofficial guide. Not associated in any way with the Dar Al Islam Center or Georgia O'Keeffe's estate