Hiking and Fishing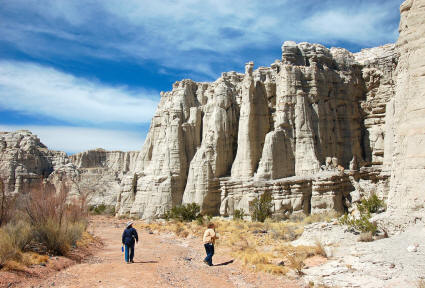 The region has some great opportunities for hiking and fishing.
You must ask permission from Dar Al Islam in advance before hiking the Plaza Blanca itself.
As well as hiking up to the Plaza Blanca itself there are great hiking trails around and into the red-rock country of Ghost Ranch which is just 20 miles away. Near there is also a Box Canyon Hike which is very mild and easy gradients with plenty of trees for cover even in summer. Hart Canyon Trail is also a great choice.
To the south is the Santa Fe National Forest which has managed hiking trails. See a full list with details here.
Nearby Abiquiu Lake is said to have some of the best fishing in New Mexico. An artificial lake create to control flooding on the Rio Grande it now is a location for water sports on fishing.
Plaza Blanca Guide - How To Get Here - Unofficial guide. Not associated in any way with the Dar Al Islam Center or Georgia O'Keeffe's estate