History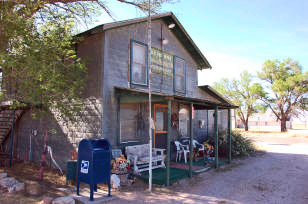 While the White Place has of course been there for geological times it did not become what we today consider the "Plaza Blanca" until it was made famous by the paintings of O'Keeffe, and she did not arrive in the area until 1929, but at first she did not live in the area and only visited for part of the year.
As early as her first visit in 1929 she was already enthralled by the light and shapes both natural and artificial in the NM desert. Ranchos Church, No. II, NM, 1929, Oil on canvas is a good example of this.
Quickly she also discovered amazing outcroppings of dark rock which she named "Black Place" as in her Black Mesa Landscape, New Mexico/Out Back of Marie's II, 1930, oil on canvas.
So when she finally found Plaza Blanca near what was to become her home in Abiquiu, it was natural that by contrast it should be called The White Place. It was first in From the White Place, 1940, oil on canvas, that she showcased the amazing forms of this area.
Plaza Blanca Guide - How To Get Here - Unofficial guide. Not associated in any way with the Dar Al Islam Center or Georgia O'Keeffe's estate